Connect with your social network account
Community rules
1. Be kind and courteous
We're all in this together to create a welcoming environment. Let's treat everyone with respect. Healthy debates are natural, but kindness is required.

2. No hate speech or bullying
Make sure everyone feels safe. Bullying of any kind isn't allowed, and degrading comments about things such as race, religion, culture, sexual orientation, gender or identity will not be tolerated.

3. Only 3D printers advertised.
Only 3D printers or directly related product may be advertised. If you post anything else it will be moderated and you will be banned.

4. Replying to posts
If you reply to a post, make sure your reply is connected with the main topic, do NOT take a topic off track.

5. All post are moderated
Every post on here is moderated - always. Don't bother joining unless you have works to share or problems to inquiry about 3D printers. That is all that will be allowed on this group.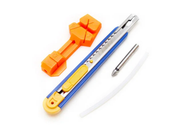 Download Link:
Hidden Content
This board requires you to be registered and logged-in to view hidden content.


Summary

Introduction
This is a PTFE cutting tool for several extruders out there. It is designed for PTFE tube that needs an external chamfers on their end (side that goes into the heatbreak) but it can cut flat on both sides as well. The chamfer is easy to make thanks to a 3 steps execution and a slightly angled blade. It is also a safe tool for your finger.

Source files (Fusion 360 and STEP) available if you like to customize the length.

I made a
dedicated guide
on how to use it and what material is needed.

Chamfer angles
With these tools you can cut create an outside chamfer of 60° and 45° or cut it flat on both sides.

Prusa specification
explains that the end of the PTFE must be at 60°. However, some prefer to use a 45° angle because it is closer to what is inside the heatbreak.

E3D specifies that the PTFE tube needs to be cut flat on both sides, without any outside or inside chamfers. You can do this by skipping #1 and #2 to only cut the length with #3.

Available length
39mm: Bondtech Prusa Upgrade MK2(S), MK2.5(S) and MK3(S) extruder.1
44.2mm: Original Prusa MK2.5S and MK3S extruder.
50mm: Original Prusa MK2(S), MK2.5 and MK3 extruder. Bear MK2.5(S) and MK3(S) extruder.
Note1: Bondtech has created a tool to cut the length once the PTFE tube is inserted inside the hotend.

Material
Box cutter with a blade thickness of approximately 0.4 mm.
60° countersink. They can have different shapes, check our guide for more details.
PTFE tube of at least 100mm.
How to use it
Read the guide on how to use this tool here:
Trim PTFE Tube Guide

Print Settings
Filament type: PLA or PETG
Layer height: 0.20mm
Infill: 20%
Perimeters: 3-4
Support : No
Brim : No
Detect thin walls : No
Credits
Some inspiration for my tool comes from the
Vecko Kojchevski's PTFE Cutting Jig 45° / 60°

License
GPLv3 license

Permissions: Commercial use, Modification, Distribution, Patent use, Private use.
Limitations: Liability, Warranty.
Conditions: License and copyright notice, State changes, Disclose source, Same license.


Created by pekcitron in
https://www.thingiverse.com