Connect with your social network account
Community rules
1. Be kind and courteous
We're all in this together to create a welcoming environment. Let's treat everyone with respect. Healthy debates are natural, but kindness is required.

2. No hate speech or bullying
Make sure everyone feels safe. Bullying of any kind isn't allowed, and degrading comments about things such as race, religion, culture, sexual orientation, gender or identity will not be tolerated.

3. Only 3D printers advertised.
Only 3D printers or directly related product may be advertised. If you post anything else it will be moderated and you will be banned.

4. Replying to posts
If you reply to a post, make sure your reply is connected with the main topic, do NOT take a topic off track.

5. All post are moderated
Every post on here is moderated - always. Don't bother joining unless you have works to share or problems to inquiry about 3D printers. That is all that will be allowed on this group.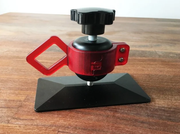 Download Link:
Hidden Content
This board requires you to be registered and logged-in to view hidden content.


Summary

Mars Onboard Build Plate Dripper

While I like the idea of the Mars supplied device for leaning your build plate while dripping clean, it takes two hands and you need a place to keep it when out of service.

So I made this!

this file is free to you, I only ask that you post your photos if you make one, on thingiverse!

It mounts to your Mars build plate body, does not obstruct and it leaves it always in place, so when done printing, just unscrew top knob, remove and slide back at angled position.

I printed on the Mars with the orientation and supports like in the photos.

I also printed on an FDM with great results.

You will need 2@ M4 x 8 or 10 mm length cap screws,
and 2@ M4 nuts
here's a handy set (affiliate link):
https://amzn.to/2l3a0gx

Update V5- excuse my various updates, I am taking down others, V5 should be the winner!
I took comments from many great contributors and improved the bracket, it is now farther to the right so it clears the vat holder of the silver and orange model too. the bracket of the hanger is now thicker and more robust, there is more tolerance in the barrel so if your print shrinks you should easily still be able to fit it. enjoy!

If you remix it please and its 50% or more like my original, please leave my logo on the product out of respect. Thanks

I have uploaded my Chitubox file with supports if that helps anyone mars_head-psd_V5.chitubox, also my sliced file _mars_head-psd_V5.cbddlp(for mars with my resins, you may have to adjust for other resins)

This is a free file to you, I only ask that if you love this please let me know and post your make!


Created by psdesign in
https://www.thingiverse.com