Connect with your social network account
Community rules
1. Be kind and courteous
We're all in this together to create a welcoming environment. Let's treat everyone with respect. Healthy debates are natural, but kindness is required.

2. No hate speech or bullying
Make sure everyone feels safe. Bullying of any kind isn't allowed, and degrading comments about things such as race, religion, culture, sexual orientation, gender or identity will not be tolerated.

3. Only 3D printers advertised.
Only 3D printers or directly related product may be advertised. If you post anything else it will be moderated and you will be banned.

4. Replying to posts
If you reply to a post, make sure your reply is connected with the main topic, do NOT take a topic off track.

5. All post are moderated
Every post on here is moderated - always. Don't bother joining unless you have works to share or problems to inquiry about 3D printers. That is all that will be allowed on this group.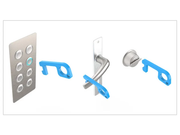 Download Link:
Hidden Content
This board requires you to be registered and logged-in to view hidden content.


Summary

Made some changes to a design I found on kickstarter. In light of the current pandemic, getting tools to people sooner than later is important.
This tool should be printed in Copper or Anti-Microbial PLA when possible. It should be noted that 3D Printed items are known to harbor Bacteria and Microbes. Please wash and disinfect as often as possible and treat with care.

I made the holster so that the touching surfaces can be protected from accidental touching.

I printed the tool with 50% Cubic Infill, no supports are needed.

I used supports on the holster.


Created by nexnox in
https://www.thingiverse.com