Platform Jack with M3 Screws and Inserts
Posted: 2020-07-15 23:12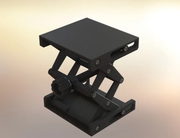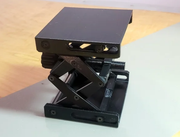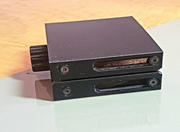 Download Link:
Hidden Content
This board requires you to be registered and logged-in to view hidden content.


Summary

I really liked the original, it printed great. I thought it would be fun to design one with M3 screws and heat set M3 inserts to have a platform jack that is a little more durable. I use mine for positioning a gopro for time lapses and it is quite useful for that.

Print with 2 or more outlines. If your printer is bad at bridging the only parts that require support are the scissor arms.

Edit: I have included a version of the jack screw that uses a heat set insert instead of a square nut for those that don't own any square nuts.

How I Designed This
I appreciated the inclusion of the CAD file in the original but I ended up designing it from scratch so that I could make a working assembly. I have attached a .zip with the entire Solidworks assembly.

Parts to Print:
- 2x Platform
- 2x Scissor Arm 1
- 2x Scissor Arm 2
- 4x Scissor Arm Bushing
- 8x M3 Bushing
- 1x Knob
- 1x Jack Screw

Hardware Required:
- 17x M3x8mm Hex Countersunk Screws
- 16x M3x3mm Heat Set Threaded Inserts
- 1x M3 Square Nut

Hardware Notes:
Four of the M3x8mm screws (the ones connecting the scissor arms to the screw posts) can be substituted for M3x12mm screws to allow for a looser fit and smoother operation. If you are buying hardware for this project, just get one of the M3 sets with every size up to 20mm because you can always use them on other projects. Please note hex countersunk head screws are sometimes referred to as "flat head" screws at the usual places.


Created by BiscuitsOnTheFloor in
https://www.thingiverse.com/