Connect with your social network account
Community rules
1. Be kind and courteous
We're all in this together to create a welcoming environment. Let's treat everyone with respect. Healthy debates are natural, but kindness is required.

2. No hate speech or bullying
Make sure everyone feels safe. Bullying of any kind isn't allowed, and degrading comments about things such as race, religion, culture, sexual orientation, gender or identity will not be tolerated.

3. Only 3D printers advertised.
Only 3D printers or directly related product may be advertised. If you post anything else it will be moderated and you will be banned.

4. Replying to posts
If you reply to a post, make sure your reply is connected with the main topic, do NOT take a topic off track.

5. All post are moderated
Every post on here is moderated - always. Don't bother joining unless you have works to share or problems to inquiry about 3D printers. That is all that will be allowed on this group.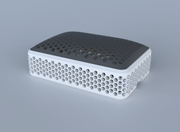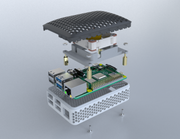 Download Link:
Hidden Content
This board requires you to be registered and logged-in to view hidden content.


Summary

DOWN-REV!

I can't remove this thing...

But I built a better cover, with camera slots and designed supports for a cleaner build....

here...

https://www.thingiverse.com/thing:4154600

Case for Noctua 5V 40x10mm 4 pin Fan...
Compatable with "Raspberry Pi 4 B Case (SnapTop)"
CPU stays very Cool. 36C during stress test (100% Fan)

SCREWS
4x M2.5 8mm

Standoffs 10mm M2.5

Nuts
4x M2.5

Bracket frame mounts on 10 mm standoffs.
CPU takes 9mm tall (9.4mm) Heatsink...

Fan fits into fan frame snugly, no screws required. M2.5 screws needed on bottom of case to secure Pi4B board to standoffs.

Case also fits into
Bracket For Case (Raspberry Pi 3B and 4B) Cases

Case cover snaps on, also fits other Raspberry Pi 4B case... (SnapTop). See Black and white version render.

Fan connects to GPIO pins and can be controlled via PWM.

You can run the fan at 3.5 V from the GPIO (either 5V or 3.5V) the 3.5V pin runs slower, quieter....

Tested at Idle, and 3.5V runs at 95F vs 91F with IceTower (3.5V)

More later... after I learn how to implement it ... Any help on this is welcome.

https://electronics.stackexchange.com/q ... spberry-pi

Also look here...

https://blog.pimoroni.com/raspberry-pi- ... -fan-shim/

Noctua Fan...

NOCTUA NF-A4x10 5V PWM, Premium Quiet Fan with USB Power Adaptor Cable, 4-Pin, 5V Version (40x10mm, Brown)

Print Settings
Printer brand:
Prusa

Printer:
i3 MK3

Rafts:
No

Supports:
No

Resolution:
.15mm

Infill:
20

Filament_brand:
random

Filament_color:
white, grey, anycolor.

Filament_material:
ABS

Notes:
If you have already printed the Pi4 Hexcase, you don't need to print the base again, just the fancover and fanframe. Beta Photos and instructions to follow...


Created by cartermultz in
https://www.thingiverse.com/