Connect with your social network account
Community rules
1. Be kind and courteous
We're all in this together to create a welcoming environment. Let's treat everyone with respect. Healthy debates are natural, but kindness is required.

2. No hate speech or bullying
Make sure everyone feels safe. Bullying of any kind isn't allowed, and degrading comments about things such as race, religion, culture, sexual orientation, gender or identity will not be tolerated.

3. Only 3D printers advertised.
Only 3D printers or directly related product may be advertised. If you post anything else it will be moderated and you will be banned.

4. Replying to posts
If you reply to a post, make sure your reply is connected with the main topic, do NOT take a topic off track.

5. All post are moderated
Every post on here is moderated - always. Don't bother joining unless you have works to share or problems to inquiry about 3D printers. That is all that will be allowed on this group.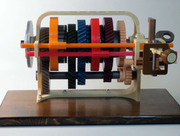 [/url

Download Link:
Hidden Content
This board requires you to be registered and logged-in to view hidden content.


Summary

This Transmission Thing was used to create a
Youtube video
illustrating the basic principle behind a constant-mesh manual transmission. It is a fully functional 4-speed (+reverse) gear box.

All are welcome to it.

I did not model synchronizers - I intend to create them as a stand-alone Thing in the future.

Assembly instructions, a parts list, and printing notes are provided in Assembly.pdf.

STEP files are included for the handful of prints that the modeler may want to tweak for optimal performance. (These are generally cylindrical prints with important clearances that your printer may produce differently than mine.)

It is a large undertaking - 72 prints requiring roughly 155 hours of print time (with my CR-10.)

It's not the right project for a beginner - or folks with actual lives.


Print Settings
Printer brand:
Creality

Printer:
CR-10

Rafts:
Yes

Supports:
Yes

Resolution:
.2 mm

Infill:
Various

Filament_brand:
3D Solutech

Filament_color:
Real Gold, Camo Green, Pastel Blue, Merlot Red, Silver Metal, Real Black, Skin, Beige, Chocolate Brown, Real White, Real Orange, Real Red

Filament_material:
PLA

Notes:
The model is pictured with a wooden display base. I would recommend mounting the model to *some* sort of base.


Created by organicap in
https://www.thingiverse.com