Connect with your social network account
Community rules
1. Be kind and courteous
We're all in this together to create a welcoming environment. Let's treat everyone with respect. Healthy debates are natural, but kindness is required.

2. No hate speech or bullying
Make sure everyone feels safe. Bullying of any kind isn't allowed, and degrading comments about things such as race, religion, culture, sexual orientation, gender or identity will not be tolerated.

3. Only 3D printers advertised.
Only 3D printers or directly related product may be advertised. If you post anything else it will be moderated and you will be banned.

4. Replying to posts
If you reply to a post, make sure your reply is connected with the main topic, do NOT take a topic off track.

5. All post are moderated
Every post on here is moderated - always. Don't bother joining unless you have works to share or problems to inquiry about 3D printers. That is all that will be allowed on this group.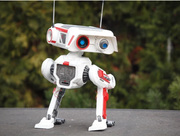 Download Link:
Hidden Content
This board requires you to be registered and logged-in to view hidden content.


Summary

Legal stuff:
BY DOWNLOADING THE FILES FROM THINGIVERSE YOU AGREE TO THE FOLLOWING TERMS AND CONDITIONS:

The files are for private use only!
You are allowed to print parts from them for your personal use only!
You are not allowed to use this files or parts you printed with the use of this files of it in any comercial way!
If you are distributing Pictures from parts or models you build with theses files you are only allowed to to so if you are declaring the source of the design. You have to add a link to this thingiverse-thing in the description of your Fotos!
You are not allowed to copy or distribute them in any way!
You are not allowed to sell them or parts you printed from them or models you build with the use of this files!

Description:
This is a lifesize Modell of BD-1 from the Computer Game Star Wars Jedi fallen order.

Important Remark: There is a second file to add Lights and a stim thrower, if you want to add the stim thrower you Need the altered head out of the other Thing, so don´t print the head part in this Thing, as it is the largest part which takes up to 22 Hours to print (on an anycubic s in normal Quality (0.2mm slices).

[update 20.02.20] Uploaded a second neck inside part with stronger spring to hold the head better in place when the neck is Extended. (doubled the thickness of the spring)
I recommend that one (neck_inside_1x1xM stroner spring) instead of the normal neck inside if you apply Light to the head due to the weight of the batteries. It replaces the normal neck inside and as with this you have to print it two times, one normal and one mirrored.

[update 18.2.20] Uploaded a fully assembled model. (complete.stl) At the hip there is a gap between the parts, thats because I had to shrink the main Body during the design phase so it matches the original dimensions better anf it wasn´t ideal to move the leg parts.

[update 11.2.20] Exchanged the file "Body_front_plate" to "Body_front_plate_V2" as the old Version leaves a gap between Body and plate on the top of the plate thank you to user Stromfire for finding the deviation.

[Remark 27.1.20] As there where some Questions in the comments: Some of the parts may seem a Little odd to print if you follow the printing recommendations. The reason is that I tried to get the best stability out of the parts when using a Extruder Printer (which I think most People here do). Therefor some of the parts have been splitted in different parts which are easy to print and have also a sound structure for their function. This is why I highly recommend to stick to the printing recommendation pdf and print those parts as shown. Mainly the parts which have a funbction as Joints and for moving parts.
If someone has better ideas for a good and stable structure to print them please let me know in the comments so that I could Change the files.

[Update 8.1.20] Updated Assembly.pdf. (Added instructions for the wires on the lower legs) Added Explosion drawing and parts list for reference

[Update 10.1.2020] I published the files for the light modification and the stim thrower I mentioned below, you can find them here:
https://www.thingiverse.com/thing:4094831

[Update 15.1.2020] Upload the missing file "lightplate black"

It´s completely articulated and can be positioned in any Position seen in the game. The Joints are nearly all fitted with notches so the limbs can be moved in 5-10° steps and sit very tight in this positions so that the model stands in any Position or can be placed on the back für Cosplay.
I have printed and assembled it completely before uploading the files. Printing Time is about 100 hours for all parts, the longest single print time ist about 23 hours for the large head-part.
All parts fit on a Printer with 200x200x205 print bed.
You may shrink it to about 80% of the original size, smaler is not possible due to small Details and wall thickness. For most parts there are no Supports needed.

Printing: When the file Name reads (number)x you have to print the part several times, according to the number. F.E.: if ist named (Name) 4x you have to print it 4 times.
If it reads 2x 2xM you have to print it 2 times normal and 2 times mirrored.
Please see the printing recomendations pdf for the orientation of the parts.

And see the Assembly.pdf for Assembly instructions.

Search for BD-1 screenshots to find a color-scheme for the paint-job. I highly recommend to paint all parts before Assembling it.

I can´t wait to see some other cool makes of this Little Guy.

Nearly 80 Hours of time went into the design, the Assembly and the documents so that it is a accurate representation of BD-1. As I didn´t have any dimensions I had to estimate the size. In crouched Position he´s About 45cm high.

Soon I will add some modifications to the head so the model can be fitted with light and a Stim Thrower so BD-1 can throw the owner three stim packs for healing as in the game.


Created by Fine_Engineer in
https://www.thingiverse.com