Connect with your social network account
Community rules
1. Be kind and courteous
We're all in this together to create a welcoming environment. Let's treat everyone with respect. Healthy debates are natural, but kindness is required.

2. No hate speech or bullying
Make sure everyone feels safe. Bullying of any kind isn't allowed, and degrading comments about things such as race, religion, culture, sexual orientation, gender or identity will not be tolerated.

3. Only 3D printers advertised.
Only 3D printers or directly related product may be advertised. If you post anything else it will be moderated and you will be banned.

4. Replying to posts
If you reply to a post, make sure your reply is connected with the main topic, do NOT take a topic off track.

5. All post are moderated
Every post on here is moderated - always. Don't bother joining unless you have works to share or problems to inquiry about 3D printers. That is all that will be allowed on this group.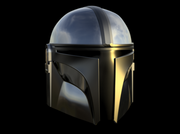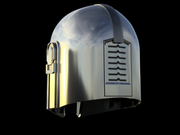 Download Link:
Hidden Content
This board requires you to be registered and logged-in to view hidden content.


Summary

EDIT: I have created a better and more accurate model of this helmet that can be found here:
https://www.thingiverse.com/thing:4445822

In commemoration of D23 and a new flood of references from the displays there I have modelled the new Mandalorian Helmet from the Disney+ show. Its scaled to fit a 6ft tall person and has been split into several different parts, there is also a solid file aswell. The visor is not included but you can use a piece of clear acrylic to make it. Any support over on my Patreon would be appreciated, hope you enjoy!


Created by DamaskProps in
https://www.thingiverse.com/