Connect with your social network account
Community rules
1. Be kind and courteous
We're all in this together to create a welcoming environment. Let's treat everyone with respect. Healthy debates are natural, but kindness is required.

2. No hate speech or bullying
Make sure everyone feels safe. Bullying of any kind isn't allowed, and degrading comments about things such as race, religion, culture, sexual orientation, gender or identity will not be tolerated.

3. Only 3D printers advertised.
Only 3D printers or directly related product may be advertised. If you post anything else it will be moderated and you will be banned.

4. Replying to posts
If you reply to a post, make sure your reply is connected with the main topic, do NOT take a topic off track.

5. All post are moderated
Every post on here is moderated - always. Don't bother joining unless you have works to share or problems to inquiry about 3D printers. That is all that will be allowed on this group.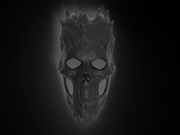 Download Link:
Hidden Content
This board requires you to be registered and logged-in to view hidden content.


Summary

Krampus
From Wikipedia, the free encyclopedia
Jump to navigationJump to search
This article is about the folklore figure. For the film, see Krampus (film).

Krampus and Saint Nicholas visit a Viennese home in 1896
In Central European folklore, Krampus is a horned, anthropomorphic figure described as "half-goat, half-demon",[1] who, during the Christmas season, punishes children who have misbehaved. This contrasts with Saint Nicholas, who rewards the well-behaved with gifts. Krampus is one of the companions of Saint Nicholas in several regions including Austria, Bavaria, Croatia, Czech Republic, Hungary, Northern Italy including South Tyrol and the Province of Trento, Slovakia, and Slovenia.[2] The origin of the figure is unclear; some folklorists and anthropologists have postulated it as having pre-Christian origins.

In traditional parades and in such events as the Krampuslauf (English: Krampus run), young men dressed as Krampus participate; such events occur annually in most Alpine towns.[3] Krampus is featured on holiday greeting cards called Krampuskarten.


Created by boris3dstudio in
https://www.thingiverse.com