Connect with your social network account
Community rules
1. Be kind and courteous
We're all in this together to create a welcoming environment. Let's treat everyone with respect. Healthy debates are natural, but kindness is required.

2. No hate speech or bullying
Make sure everyone feels safe. Bullying of any kind isn't allowed, and degrading comments about things such as race, religion, culture, sexual orientation, gender or identity will not be tolerated.

3. Only 3D printers advertised.
Only 3D printers or directly related product may be advertised. If you post anything else it will be moderated and you will be banned.

4. Replying to posts
If you reply to a post, make sure your reply is connected with the main topic, do NOT take a topic off track.

5. All post are moderated
Every post on here is moderated - always. Don't bother joining unless you have works to share or problems to inquiry about 3D printers. That is all that will be allowed on this group.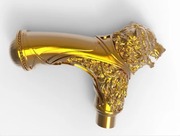 Download Link:
Hidden Content
This board requires you to be registered and logged-in to view hidden content.


Summary

Walking stick
From Wikipedia, the free encyclopedia
Jump to navigationJump to search
"Cane (walking stick)" redirects here. For use as a mobility aid, see Assistive cane. For the insects, see Phasmatodea.

A typical walking stick
A walking stick or walking cane is a device used primarily to aid walking, provide postural stability or support, or assist in maintaining a good posture, but some designs also serve as a fashion accessory, or are used for self-defense.

Walking sticks come in many shapes and sizes and some have become collector's items. People with disabilities may use some kinds of walking sticks as a crutch. The walking stick has also historically been known to be used as a defensive or offensive weapon and may conceal a knife or sword - as in a swordstick.

Hikers use walking sticks, also known as trekking poles, pilgrim's staffs, hiking poles, or hiking sticks, for a wide variety of purposes: to clear spider webs or to part thick bushes or grass obscuring their trail; as a support when going uphill or as a brake when going downhill; as a balance point when crossing streams, swamps, or other rough terrain; to feel for obstacles in the path; to test mud and puddles for depth; to enhance the cadence of striding, and as a defence against wild animals. Also known as an alpenstock, from its origins in mountaineering in the Alps, such a walking stick is equipped with a steel point and a hook or pick on top. One can improvise a walking stick from nearby felled wood. More ornate sticks are made for avid hikers and often adorned with small trinkets or medallions depicting "conquered" territory. Wooden walking-sticks are used for outdoor sports, healthy upper-body exercise, and even club, department, and family memorials. They can be individually handcrafted from a number of woods and may be personalised in many ways for the owner.


Created by cncmodels4you in
https://www.thingiverse.com