Connect with your social network account
Community rules
1. Be kind and courteous
We're all in this together to create a welcoming environment. Let's treat everyone with respect. Healthy debates are natural, but kindness is required.

2. No hate speech or bullying
Make sure everyone feels safe. Bullying of any kind isn't allowed, and degrading comments about things such as race, religion, culture, sexual orientation, gender or identity will not be tolerated.

3. Only 3D printers advertised.
Only 3D printers or directly related product may be advertised. If you post anything else it will be moderated and you will be banned.

4. Replying to posts
If you reply to a post, make sure your reply is connected with the main topic, do NOT take a topic off track.

5. All post are moderated
Every post on here is moderated - always. Don't bother joining unless you have works to share or problems to inquiry about 3D printers. That is all that will be allowed on this group.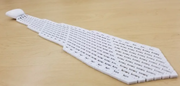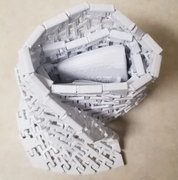 Download Link:
Hidden Content
This board requires you to be registered and logged-in to view hidden content.


Summary

This tie was just a fun little personal project. I got the idea after printing
FLOWALISTIK's
chainmail design. The center link I use is based on his while I designed the connectors, edge links, and tie knot.

The 3D Printer I had access to is a .6mm printer so this link size is the smallest I could get but I'm sure if someone wants to modify my .f3d file this tie could be lighter and more flexible with smaller links.

Print Settings
Rafts:
No

Supports:
No

Resolution:
.6mm

Infill:
20%

Notes:
You need to lay the models so that the open part of the connectors are in the air. I found if you don't do this they're too small to adhere to the print bed.

Post-Printing
Each piece has connectors that link to the next piece, just snap them together and glue the tie knot together.





How I Designed This
I am new to designing in Fusion360. The .f3d file is available for you guys and if there's anything you notice could have been done better I would love to know so feel free to comment.


Created by Pehrsona in
https://www.thingiverse.com