Connect with your social network account
Community rules
1. Be kind and courteous
We're all in this together to create a welcoming environment. Let's treat everyone with respect. Healthy debates are natural, but kindness is required.

2. No hate speech or bullying
Make sure everyone feels safe. Bullying of any kind isn't allowed, and degrading comments about things such as race, religion, culture, sexual orientation, gender or identity will not be tolerated.

3. Only 3D printers advertised.
Only 3D printers or directly related product may be advertised. If you post anything else it will be moderated and you will be banned.

4. Replying to posts
If you reply to a post, make sure your reply is connected with the main topic, do NOT take a topic off track.

5. All post are moderated
Every post on here is moderated - always. Don't bother joining unless you have works to share or problems to inquiry about 3D printers. That is all that will be allowed on this group.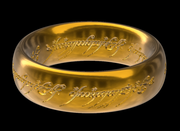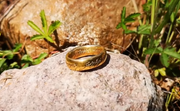 Download Link:
Hidden Content
This board requires you to be registered and logged-in to view hidden content.


Summary

One ring to rule them all. This model was based on this image, using MATLAB R2016a to make the "height map" of the inscription on a toroid instead of a sphere, unlike most of the models I've made by this way. I tried to follow the proportions of the ring from the Lord of the Rings (LotR) and The Hobbit films. The files have different inner diameter, from 9 to 24 mm. All of them are the same file scaled to fit to the inner diameter. It is also included a 9cm diameter ring if you want to use it as a bracelet.
Check out this amazing pure gold casting of this model, made by AlumiTube:


Update: all the models were changed following standard sizes from here. You can check this to find the equivalent for the different size conventions. Since the new Thingiverse API is buggy, the download links could be broken, so I will left the links in a list here for the files with their inner diameter to simplify:
Bracelet
9.91mm
10.72mm
11.53mm
11.95mm
12.18mm
12.37mm
12.60mm
12.78mm
13.00mm
13.21mm
13.41mm
13.61mm
13.83mm
14.05mm
14.15mm
14.25mm
14.36mm
14.45mm
14.56mm
14.65mm
14.86mm
15.04mm
15.27mm
15.40mm
15.53mm
15.70mm
15.80mm
15.90mm
16.00mm
16.10mm
16.30mm
16.41mm
16.51mm
16.71mm
16.92mm
17.13mm
17.35mm
17.45mm
17.75mm
17.97mm
18.19mm
18.35mm
18.53mm
18.61mm
18.69mm
18.80mm
18.89mm
19.10mm
19.22mm
19.31mm
19.41mm
19.51mm
19.62mm
19.84mm
20.02mm
20.20mm
20.32mm
20.44mm
20.68mm
20.76mm
20.85mm
20.94mm
21.08mm
21.18mm
21.24mm
21.30mm
21.49mm
21.69mm
21.89mm
22.10mm
22.33mm
22.60mm
22.69mm
22.92mm
23.06mm
23.24mm
23.47mm
23.55mm
23.87mm
24.27mm
I spend part of my time making these models, letting them available and free for everyone. If you want to support my work, you can contribute with me here:

Donate with PayPal button
Print Settings
Printer:
FLSUN Cube

Resolution:
0.1 or lower

Infill:
Doesn't matter

Notes:
It is recommended to use brim or raft because of its small contact surface with the bed. The details of the inscription are to small for the usual 0.3mm resolution, it is recommended to print it with the resolution as low as possible.


Created by tato_713 in
https://www.thingiverse.com