Connect with your social network account
Community rules
1. Be kind and courteous
We're all in this together to create a welcoming environment. Let's treat everyone with respect. Healthy debates are natural, but kindness is required.

2. No hate speech or bullying
Make sure everyone feels safe. Bullying of any kind isn't allowed, and degrading comments about things such as race, religion, culture, sexual orientation, gender or identity will not be tolerated.

3. Only 3D printers advertised.
Only 3D printers or directly related product may be advertised. If you post anything else it will be moderated and you will be banned.

4. Replying to posts
If you reply to a post, make sure your reply is connected with the main topic, do NOT take a topic off track.

5. All post are moderated
Every post on here is moderated - always. Don't bother joining unless you have works to share or problems to inquiry about 3D printers. That is all that will be allowed on this group.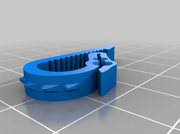 Download Link:
Hidden Content
This board requires you to be registered and logged-in to view hidden content.


Summary

This is a spool filament clip. It prints quickly, uses only about 1 gram of filament (0.33 metres of 1.75 mm filament), and is very easy to use.

It clips onto the spool of any brand of filament, so it's a universal clip. It can clip onto 1.75 mm filament or 2.85 mm filament, so it's a dual-filament clip. It's shaped like a dragon, so it's a dragon clip. Hence the name Universal Dual-Filament Dragon Clip.

The easiest way to use it is to snap the filament in from the back of the head to secure it and slide the filament out from the side to release it.

Variations

There are 6 variations of the clip:
UniversalDualFilamentDragonClip.stl - 4.2 mm thin
UniversalDualFilamentDragonClip-thick.stl - 6.35 mm thick
UniversalDualFilamentDragonClip-NoSpikes.stl - 4.2 mm thin, no spikes on back
UniversalDualFilamentDragonClip-thick-NoSpikes.stl - 6.35 mm thick, no spikes on back
UniversalDualFilamentDragonClip-FullSpikes.stl - 4.2 mm thin, spikes are full thickness
UniversalDualFilamentDragonClip-thick-FullSpikes.stl - 6.35 mm thick, spikes are full thickness

Why another filament clip.

I've always used filament clips that clip to the filament itself, but I was curious to try one that clips to the spool, so I searched Thingiverse for the best one. I found one that I determined was probably the best design, but it has errors when loaded into the slicer and it has unwanted branding on it. So I removed the errors with netfabb basic and then removed the branding with Blender.

Since the original seemed unnecessarily large, I created another version where I reduced the thickness by a third by scaling the Z dimension from 6.35 mm to 4.2 mm. The thinner clip seems to work just as well as the original-sized clip. I included the original-sized clip as well since neslekkim pointed out that the thinner ones get a bit stuck in the honeycomb sides of Prusament spools. I also made versions with no spikes on the back that you might want to use if you store your spools in plastic zip-lock bags inside the original boxes since the spikes could puncture through the bags. I also made versions with the spikes spanning the full thickness of the clip (so no overhangs) after barbachose made a remix like that but the process used had created flawed models.

Credit to Original Designer

This is just a simple remix of
Khaleesi Clip Dual Sized Filament Clip 1.75 & 2.85mm by sneaks
and all credit for this excellent design goes to
sneaks
; I've done nothing other than remove the errors and the branding and the spikes and scaled it in the Z dimension.


Created by Lyl3 in
https://www.thingiverse.com