Connect with your social network account
Community rules
1. Be kind and courteous
We're all in this together to create a welcoming environment. Let's treat everyone with respect. Healthy debates are natural, but kindness is required.

2. No hate speech or bullying
Make sure everyone feels safe. Bullying of any kind isn't allowed, and degrading comments about things such as race, religion, culture, sexual orientation, gender or identity will not be tolerated.

3. Only 3D printers advertised.
Only 3D printers or directly related product may be advertised. If you post anything else it will be moderated and you will be banned.

4. Replying to posts
If you reply to a post, make sure your reply is connected with the main topic, do NOT take a topic off track.

5. All post are moderated
Every post on here is moderated - always. Don't bother joining unless you have works to share or problems to inquiry about 3D printers. That is all that will be allowed on this group.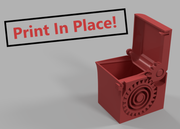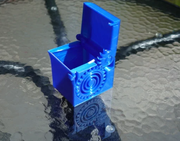 Download Link:
Hidden Content
This board requires you to be registered and logged-in to view hidden content.


Summary

This is my Print in place spring loaded box design! No supports, no assembly, just print and use!
See it in action here:




All clearances are 0.3mm or greater, so most household 3d-printers should have no problems printing it. however, if you suspect you might need a little tuning, I did include a test piece to tune your printer!

I created an Instructables about this project going more into detail about the design choices and tricks that I used to make it work, you can find that here:
https://www.instructables.com/id/Print- ... Loaded-Box

Important:
-Use 0.2mm layer height or finer! (this is due to the overhang being designed for it)
The print should be positioned on its side as shown in the video during printing. (gears down)
-No Suport

Please leave your questions and comments in the comment field, and I'll do my best to answer them.
Every like is appreciated!


Check out my social media :
YouTube

Facebook

Instagram

Print Settings
Rafts:
No

Supports:
No

Resolution:
0,2mm

Custom Section


Created by Turbo_SunShine in
https://www.thingiverse.com