Connect with your social network account
Community rules
1. Be kind and courteous
We're all in this together to create a welcoming environment. Let's treat everyone with respect. Healthy debates are natural, but kindness is required.

2. No hate speech or bullying
Make sure everyone feels safe. Bullying of any kind isn't allowed, and degrading comments about things such as race, religion, culture, sexual orientation, gender or identity will not be tolerated.

3. Only 3D printers advertised.
Only 3D printers or directly related product may be advertised. If you post anything else it will be moderated and you will be banned.

4. Replying to posts
If you reply to a post, make sure your reply is connected with the main topic, do NOT take a topic off track.

5. All post are moderated
Every post on here is moderated - always. Don't bother joining unless you have works to share or problems to inquiry about 3D printers. That is all that will be allowed on this group.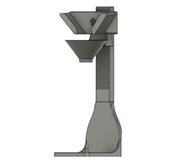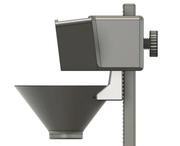 Download Link:
Hidden Content
This board requires you to be registered and logged-in to view hidden content.


Summary

Fully printable resin vat draining rack with integrated height adjustment and funnel system. To adjust, loosen the lock bolt, slide the holder to the desired height, and re-tighten the lock bolt. The rack grooves mate with half-cylinders inside the vat holder (see CAD cross-section photo) when the locking bolt is tightened down, so there is no sliding once the weight of the vat is present. The holder is angled forward by 5 degrees to prevent resin from dribbling under the corner of the vat. The angle also maximizes stability by moving the center of gravity forward. This is very stable even when adjusted to the maximum height!

Assembly: Print all four main parts and optionally the funnel or funnel+spacer. Depending on your printer's tolerance you may decide to print the locking bolt on its head, and scale it to 98% in the XY directions ONLY, to get better thread fitment. I recommend that you epoxy the rack to the base. It will probably work without it but I feel better with it glued in place. Or, if you have a giant printer, grab the file that has both the base and the rack as one part. You'll need a pair of M3 bolts to fasten the funnel or funnel+spacer to the vat holder. Optionally you can glue in four 5mm x 1mm neodymium magnets for the removable funnel system (make sure you get the polarity right).

Updated 9/8/19: Added bolt-on funnel system to accept paper paint filters.
Updated 10/3/19: Added vat holder STL that fits the Prusa SL1 tank.
Updated 1/20/20: Added removable funnel system, beefed up base, longer rack.
Updated 1/22/20: Made removable funnel interface a snap-fit spline/slot for added strength

Update 1/20/2020:

Based on user feedback and my own experience using this for several months, I made the base more sturdy and got rid of the round recesses for resin bottles (they were more of a nuisance than anything). The new base also now has rim to contain the inevitable accidents
The rack is about 20mm taller now as well. Still fits flat on the Ender3 if you rotate it 45 degrees.

I also came up with a new, removable funnel system to aid in cleaning and removing/installing paper paint filters (which should be trimmed at the top to fit). There is a new spacer and funnel that mate as a spline in a slot. This funnel just "snaps into" and is supported by the slot in the new spacer. You can optionally fit both sides with 5mm x 1mm magnets, to help keep the funnel in place. Just glue them into the provided recesses (make sure you get the polarity right). I don't think the magnets are necessary though - let me know your experience with it. I left the original spacer file so you can print additional ones to lower the funnel further if you prefer that. I like mine to be close to the vat. I also left the original bolt-on funnel parts as well if you don't want to mess with the removable one.


Created by MakerMatrix in
https://www.thingiverse.com