Connect with your social network account
Community rules
1. Be kind and courteous
We're all in this together to create a welcoming environment. Let's treat everyone with respect. Healthy debates are natural, but kindness is required.

2. No hate speech or bullying
Make sure everyone feels safe. Bullying of any kind isn't allowed, and degrading comments about things such as race, religion, culture, sexual orientation, gender or identity will not be tolerated.

3. Only 3D printers advertised.
Only 3D printers or directly related product may be advertised. If you post anything else it will be moderated and you will be banned.

4. Replying to posts
If you reply to a post, make sure your reply is connected with the main topic, do NOT take a topic off track.

5. All post are moderated
Every post on here is moderated - always. Don't bother joining unless you have works to share or problems to inquiry about 3D printers. That is all that will be allowed on this group.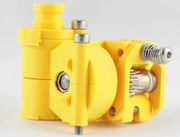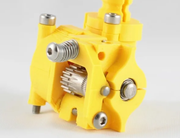 Download Link:
Hidden Content
This board requires you to be registered and logged-in to view hidden content.


Summary

This is a dual drive remote direct extruder with Bondtech gears and custom 3d printed 30:1 worm gear. It is designed to combine dual drive extruder benefits with very low weight (compared to direct drive system), high resolution, much easier retraction tuning (compared to bowden system) and faster printing with flexibles specific for the remote direct system. So if you have some Bondtech gears laying around, now you can make your own copy just buing some minor parts and 3d printing everything else by yourself.

Remote Direct Extruder In Action

Overview
Remote direct systems are not very popular yet, so there is little information about them on the Internet. Someone who does not know the advantages and disadvantages of such a solution may find it difficult to say whether it would be useful for him or not.

Remote direct extruders are the most useful in case of low moving mass printers (e.g. Delta/CoreXY/Ulti mechanics), where Bowden extruders are usually used. In such cases, carriage weight reduction allows faster printing while maintaining similar quality without ghosting and therefore Bowden extruders are being applied. Changing from Bowden to remote direct increases this weight and may cause some reduction in this maximum print speed. What we get in return are much fewer problems with adjusting the parameters of retraction, easier printing with flexible filaments, high resolution filament feeding (resulting from a 30:1 gear ratio). Remote direct is therefore a certain compromise between Bowden and direct drive, combining the ease of printing specific to direct drive with the mobility of Bowden (no ghosting). It is important to remember that it combines both their advantages and disadvantages.

In the case of Cartesian mechanics, reducing ghosting may not be possible due to the high weight of the moving bed. Changing an extruder placed on the carriage will not solve this problem and in most cases the maximum print speed will not change. However, it still solves the above-mentioned Bowden problems and may be the only alternative for large printers with a single Z-axis (due to the descent of the X-axis, as in the CR-10).

**Pros**
- Quite low weight (lighter than a driect drive, heavier than a Bowden)
- High resolution filament feeding (due to 30:1 gear ratio)
- Easier adjustment of retraction parameters than Bowden
- Easier and faster printing with flexible filaments than Bowden
- Less carriage vibration than direct drive

**Cons:**
- Configuration of the extruder stepper motor (Vref, retraction speed, extruder acceleration, etc.) may be difficult
- Slightly more noticable ghosting than Bowden is possible
- Tube with flexible shaft can be difficult to close within the printer enclosure.


Createdby fredator in
https://www.thingiverse.com