Connect with your social network account
Community rules
1. Be kind and courteous
We're all in this together to create a welcoming environment. Let's treat everyone with respect. Healthy debates are natural, but kindness is required.

2. No hate speech or bullying
Make sure everyone feels safe. Bullying of any kind isn't allowed, and degrading comments about things such as race, religion, culture, sexual orientation, gender or identity will not be tolerated.

3. Only 3D printers advertised.
Only 3D printers or directly related product may be advertised. If you post anything else it will be moderated and you will be banned.

4. Replying to posts
If you reply to a post, make sure your reply is connected with the main topic, do NOT take a topic off track.

5. All post are moderated
Every post on here is moderated - always. Don't bother joining unless you have works to share or problems to inquiry about 3D printers. That is all that will be allowed on this group.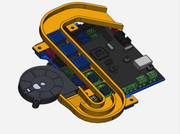 Download Link:
Hidden Content
This board requires you to be registered and logged-in to view hidden content.


Summary

Version 1.1 eingefügt. Kabel vom Display können so nicht mehr eingeklemmt werden.
Added Version 1.1. Cables from the display can no longer be trapped in this way.

Hier ist ein Kühlungskanal für die Steppertreiber auf dem MKS GEN L, verbaut in der Artillery Sidewinder X1

Die Treiber sind im Original TMC2100.
Diese werden im Betrieb sehr warm.
Der verbaute 80mm Lüfter in der Bodenplatte, kann keine Kühlung für die Treiber gewährleisten.

Benötigte Teile:

5015 Radiallüfter 24V (12V mit Stepdownmodul)
4x M3x6

Ich empfehle einen Sunon 5015 Radial Lüfter mit einem Stepdownmodul.
https://amzn.to/34m4bMq

https://amzn.to/2XN0qxg

Die 24V für den Lüfter zweige ich von dem 80mm Lüfter ab.

Here is a cooling channel for the stepper drivers on the MKS GEN L, mounted in the Artillery Sidewinder X1

The drivers are in the original TMC2100 clones.
They become very warm during operation.
The built-in 80mm fan in the base plate can not provide cooling for the drivers.

Required parts:

5015 Radial fan 24V (12V with stepdown module)
4x M3x6

I recommend a Sunon 5015 Radial fan with a stepdown module.
https://amzn.to/34m4bMq

https://amzn.to/2XN0qxg

I separate the 24V for the fan from the 80mm fan.










Created by xxricsxx in
https://www.thingiverse.com