Connect with your social network account
Community rules
1. Be kind and courteous
We're all in this together to create a welcoming environment. Let's treat everyone with respect. Healthy debates are natural, but kindness is required.

2. No hate speech or bullying
Make sure everyone feels safe. Bullying of any kind isn't allowed, and degrading comments about things such as race, religion, culture, sexual orientation, gender or identity will not be tolerated.

3. Only 3D printers advertised.
Only 3D printers or directly related product may be advertised. If you post anything else it will be moderated and you will be banned.

4. Replying to posts
If you reply to a post, make sure your reply is connected with the main topic, do NOT take a topic off track.

5. All post are moderated
Every post on here is moderated - always. Don't bother joining unless you have works to share or problems to inquiry about 3D printers. That is all that will be allowed on this group.
What export setting should I choose to get a small, high-quality 3D file?


In many 3D modeling programs, you will be asked to define the maximum tolerance, precision or deviation of your STL export. This tolerance is defined as the maximum distance between the original shape and the STL mesh you are exporting. So if you choose the right tolerance here, you can be sure that your exported STL mesh will be perfectly printable and won't look pixelated.

It is advised to choose a tolerance of 0.01 millimeters for a good export. Exporting with a tolerance smaller than 0.01 mm does not make sense because 3D printers cannot print this level of detail. When exporting a file with a tolerance larger than 0.01 mm, triangles might become visible in the 3D print.
What to do if your software doesn't allow you to reduce the size of your 3D file?


File size is mostly a problem for programs that use NURBS modeling (meaning they express mathematical models). These programs typically allow you to set the quality of the .STL file in one way or another.

Some 3D modeling programs, however, do not offer an option to choose a tolerance for your .STL export, or any other tool to reduce the polygon count. In this case, take your high-detail size-heavy 3D file and continue editing it in another program.

For example, you can give the free 3D modeling program Meshmixer a try. Choose the 'Select' tool from the menu on the right, then double-click on your model (this will select your entire mesh). Then click on the 'Edit…' option and select 'Reduce'.

You can now reduce the polygon count using several options. The best working choice is to use the percentage tool. It will immediately tell you by how much percent your file size (and polygon count) has been reduced.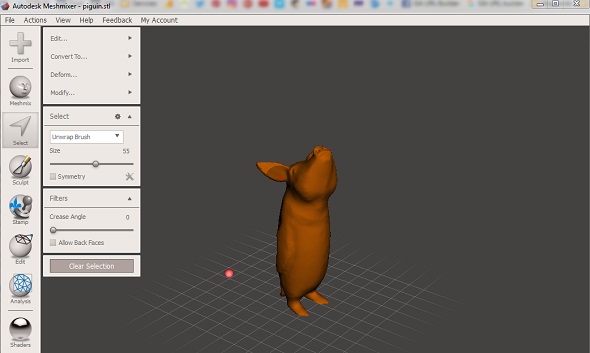 Created by Fabian in i.materialise.com