Connect with your social network account
Community rules
1. Be kind and courteous
We're all in this together to create a welcoming environment. Let's treat everyone with respect. Healthy debates are natural, but kindness is required.

2. No hate speech or bullying
Make sure everyone feels safe. Bullying of any kind isn't allowed, and degrading comments about things such as race, religion, culture, sexual orientation, gender or identity will not be tolerated.

3. Only 3D printers advertised.
Only 3D printers or directly related product may be advertised. If you post anything else it will be moderated and you will be banned.

4. Replying to posts
If you reply to a post, make sure your reply is connected with the main topic, do NOT take a topic off track.

5. All post are moderated
Every post on here is moderated - always. Don't bother joining unless you have works to share or problems to inquiry about 3D printers. That is all that will be allowed on this group.
What professional 3D printing needs to move from a niche technology to mainstream is to lower the cost of entry, provide more consistent results, and convince the manufacturing world that 3D printing at scale offers real value. These are the findings in the 6th annual "The State of 3D Printing 2020" report from Sculpteo, a Paris-based 3D printing service bureau.

Progress on these fronts, however, is evident, the study found: 65% of businesses surveyed plan to increase investment in 3D printing this year, nearly 30% of users invested more than $100k in 3D printing last year, and nearly half said their 3D prints are for production parts.

In another promising finding, 68% of respondents indicated they are eager to use additive manufacturing for more applications than they are currently using it. This shows that companies are "feeling more confident about the 3D technology," the report says. Nearly half of respondents will start using new 3D printing technologies, which is another indicator of confidence in the industry, according to the report.
Companies Expand Use of 3D Printing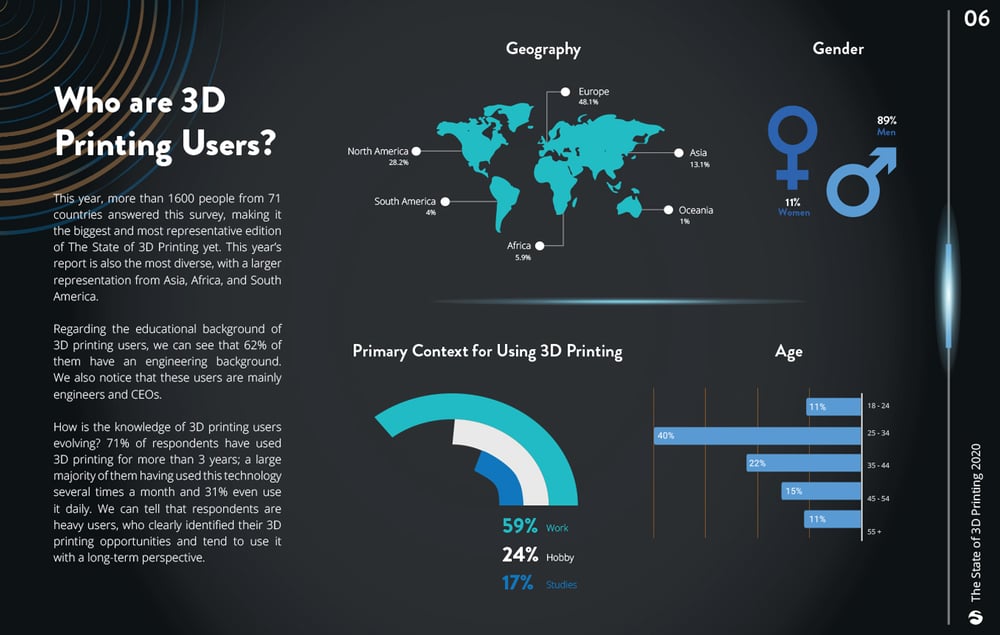 "The State of 3D Printing 2020" (Source: Sculpteo)


The business case for professional 3D printing remains focused on accelerating product development, as it has for the past six years, but the report also shows increases in companies using 3D printing to boost their production flexibility and improve spare parts management. "Thanks to some great 3D printing benefits, such as lead time reduction and speed of innovation, a large majority of respondents are seeing 3D printing as a real game-changer for their business," the report says.

On the material front, plastics are still the most commonly employed medium for 3D prints followed by resins, metals, and ceramics. Within the technology category, filament printers (FDM) are the most widely used and owned machines, followed by selective laser sintering (SLS) and stereolithography (SLA) technology, which are mostly used through external service providers.
Hurdles & Opportunities in Pro 3D Printing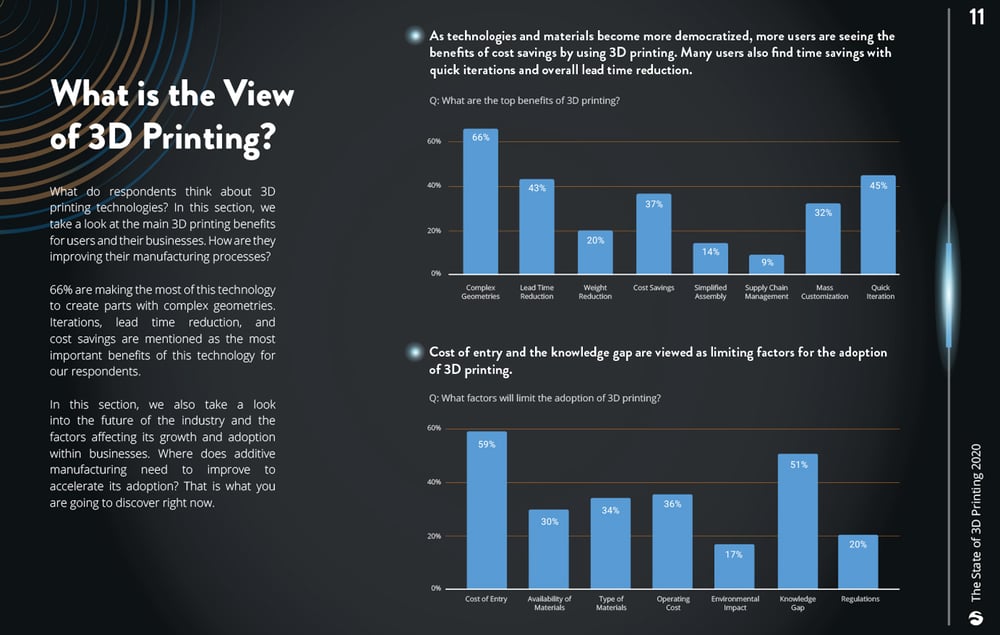 "The State of 3D Printing 2020" (Source: Sculpteo)


Focusing on the future, 62% of survey respondents said "more reliable technologies" are required for the industry to grow. Within companies, the biggest hurdle to growing 3D printing initiatives is money (54%) followed by a lack of physical space (20%). A lack of senior management support was cited by 13% of respondents as a barrier to growth.

For companies that have overcome the barriers to entry (those using additive manufacturing for more than two years with at least a $10k investment in the last year), the payoffs are huge, the survey found. Of these "Power Users", as the report calls them, 70% consider 3D technology as a strength and a chance to leap ahead of their competitors. More than a third of Power Users plan to increase their 3D program spend up to 50% this year, while more than half believe 3D printing has the potential to play a "significant role" in manufacturing, business, and individual life.

"After six years, we can see a clear evolution in the applications of this technology," says Clément Moreau, Sculpteo CEO. "(There's) no doubt that the future of 3D printing will continue to be game-changing."

More than 1,600 people from 71 countries participated in the survey, which is free to download at Stateof3DPrinting.com.https://www.sculpteo.com/en/ebooks/stat ... port-2020/