Connect with your social network account
Community rules
1. Be kind and courteous
We're all in this together to create a welcoming environment. Let's treat everyone with respect. Healthy debates are natural, but kindness is required.

2. No hate speech or bullying
Make sure everyone feels safe. Bullying of any kind isn't allowed, and degrading comments about things such as race, religion, culture, sexual orientation, gender or identity will not be tolerated.

3. Only 3D printers advertised.
Only 3D printers or directly related product may be advertised. If you post anything else it will be moderated and you will be banned.

4. Replying to posts
If you reply to a post, make sure your reply is connected with the main topic, do NOT take a topic off track.

5. All post are moderated
Every post on here is moderated - always. Don't bother joining unless you have works to share or problems to inquiry about 3D printers. That is all that will be allowed on this group.
Starting from a file: Using the software packages above does not always mean that you need to start from scratch! Of course you can also import 3D files from the web or 3D scans.
Finding 3D files on the web: There are tons of websites out there that offer (both free and premium) 3D models to download. We took a look at 10 of the best and most popular 3D model databases and compared them for price, quality, selection, and printability right here. Starting from a 3D model is especially helpful for people new to 3D modeling and 3D printing
Open-source tool for human 3D characters: MakeHuman is a great tool to create your first 3D file. It's a free and open source software that creates realistic and customized 3D humans which can still be further edited in programs like ZBrush and Meshmixer
Getting scanned: Of course many people want themselves to be the main hero. In order to create a figurine that looks just like you, there are 3D scanners for the job. High-end scanning software can easily cost thousands of dollars – but there are cheaper alternatives. On the one hand you could get yourself scanned (yep, there are services for that), or you could try to get a scan with a free app on your smartphone. Creating a decent 3D scan with a smartphone (or camera) is a bit trickier and may take a few attempts, but we've had quite a few positive experiences already. You can find an overview of the 20 best 3D scanners here. A very important step is to clean up your 3D scan before you can print it. ZBrush or Meshmixer are especially useful for that and of course we also have a complete tutorial here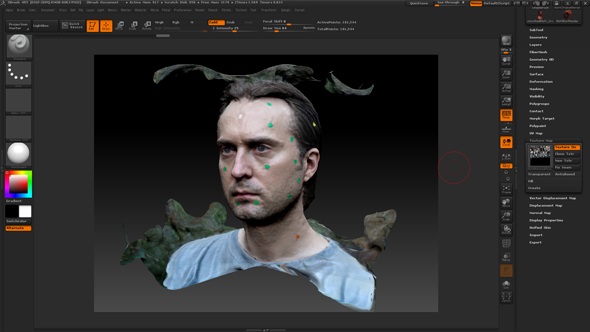 Cleaning up a 123C Catch scan in ZBrush



3D printing your design: It doesn't matter if you start from scratch, a scan, or a file; two more things are essential for a successful 3D print – a well-prepared file and a basic understanding of the intended 3D printing material.
3D printing material: When it comes to action figures in professional 3D printing quality you have several great options. For a 3D print that is printed in multiple colors, multicolor material is probably the way to go. If you want stronger plastic material and are thinking about painting the model yourself you should take a look at Polyamide or Gray Resin. Metal prints are also possible: steel, brass, bronze… you name it!
File preparation: No matter what material you choose in the end, you always need to read the detailed design guides for some essential tips and tricks to prepare your file for 3D printing. You will learn why wall thickness is important and how the fragile parts of your model can be supported. We already mentioned it above, but it's worth another reminder: a 3D scan always needs to be 'cleaned up' before it is printable (read more about this in the 'getting scanned' part above)
Getting your professional 3D print: In order to receive a high-quality 3D print you can simply upload your file here and choose from 100+ materials and finishes. We will then print your model and ship it right to your doorstep

Pixellated lion figurine in Multicolor+
Created by Fabian in i.materialise.com