Connect with your social network account
Community rules
1. Be kind and courteous
We're all in this together to create a welcoming environment. Let's treat everyone with respect. Healthy debates are natural, but kindness is required.

2. No hate speech or bullying
Make sure everyone feels safe. Bullying of any kind isn't allowed, and degrading comments about things such as race, religion, culture, sexual orientation, gender or identity will not be tolerated.

3. Only 3D printers advertised.
Only 3D printers or directly related product may be advertised. If you post anything else it will be moderated and you will be banned.

4. Replying to posts
If you reply to a post, make sure your reply is connected with the main topic, do NOT take a topic off track.

5. All post are moderated
Every post on here is moderated - always. Don't bother joining unless you have works to share or problems to inquiry about 3D printers. That is all that will be allowed on this group.
5. Grouped Models


Unfortunately, so-called grouped models are a common reason for us to cancel orders. For example, users that upload the following design with six separate shells will get a notification that their order will be cancelled (of course they will be fully reimbursed).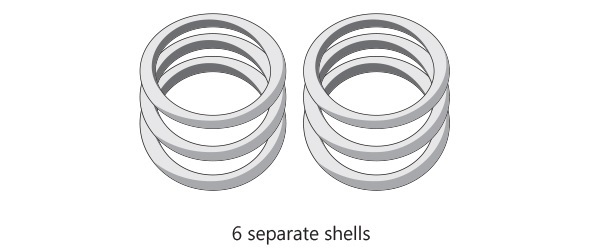 When you need more than one print, simply upload the separate objects individually. If you need exactly the same design several times, there's even a quantity discount. If you need many small polyamide or alumide parts, then considering to design a grid container for your 3D prints is an interesting option.
6 Small Details and Embossed/Engraved Text


The details, or the small decorative parts of the 3D object such as embossed or engraved text, need to be of a certain size or they will not appear on the printed object. The exact minimum size of the smallest possible features of the design depend heavily on the material of your choice. That's why you need to carefully read through the design guide of the material of your choice first.

This is especially important if you intend to add embossed or engraved details such as text. Sticking to the minimum detail size will make sure that everything is as readable as you intended.

7. Hollowing and Escape Holes


A hollow model means that the interior of your object will not be solid. Solid designs are not necessarily a problem – they will be stronger and harder to break, but they will also be more expensive as more 3D printing material is used.

With a hollow model, the interior of your print will be empty. However, since our printers print layer by layer, 3D printing material can get trapped in the interior of your model.

If you would like to avoid this, you can add 'escape holes' to your design. Material that is not used for building your 3D print can then be removed.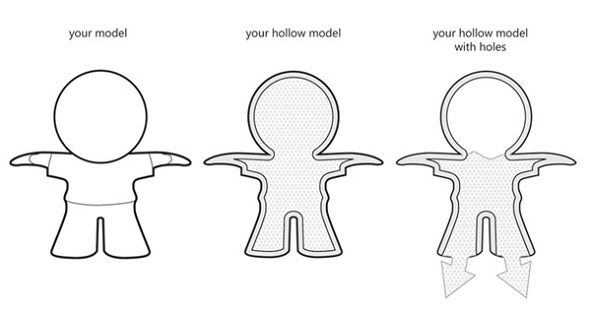 For 3D printing, the most common file format is STL (Standard Triangle Language), which means that your design will be translated into triangles in a 3D space. Most 3D modeling software has the option of exporting your designs to an STL file format and lets you set the desired resolution. Here's a visual representation of different file resolutions from extremely high (left) to quite low (right):



In most 3D modeling software, when exporting a file you will be asked to define the tolerance for the export. This tolerance is defined as the maximum distance between the original shape and the STL mesh you are exporting. We advise choosing 0.01 mm for a good export. Exporting with a tolerance smaller than 0.01 mm does not make sense because 3D printers cannot print at this level of detail and your file will be unnecessarily heavy.

When exporting with a tolerance larger than 0.01 mm, however, triangles might become visible in the 3D print. You can read more about this in our blog post about file resolution where we also explain the 40 other 3D file formats that we support.
Summary: File Fixing for 3D Printing


Let's take a deep breath. Don't worry: things sound more difficult than they are. If you are struggling to learn how to 3D model you can always find plenty of resources and tutorial videos online. Once again we want to point out our material guides to you where you will find valuable and precise instructions for each 3D printing material there.

If you designed a 3D model for printing, why not print it with our online 3D printing service? It's easy, fast and efficient. When uploading a model to our website we will always double-check your design before we send it to the printers, and if there are mistakes or if parts of your object could break, we will warn you about this and tell you what went wrong.

Learn about these 5 mistakes to avoid when designing a 3D model for 3D printing to make it even easier.
Create By Aura