Connect with your social network account
Community rules
1. Be kind and courteous
We're all in this together to create a welcoming environment. Let's treat everyone with respect. Healthy debates are natural, but kindness is required.

2. No hate speech or bullying
Make sure everyone feels safe. Bullying of any kind isn't allowed, and degrading comments about things such as race, religion, culture, sexual orientation, gender or identity will not be tolerated.

3. Only 3D printers advertised.
Only 3D printers or directly related product may be advertised. If you post anything else it will be moderated and you will be banned.

4. Replying to posts
If you reply to a post, make sure your reply is connected with the main topic, do NOT take a topic off track.

5. All post are moderated
Every post on here is moderated - always. Don't bother joining unless you have works to share or problems to inquiry about 3D printers. That is all that will be allowed on this group.
What's the 3D Printing Problem?


Inexplicably, despite loading the filament and the print head moving without a hitch, no filament is depositing on the print bed.
What's Causing this 3D Printing Problem?


Quite simply, your nozzle may be too close to the print bed. If you've somehow tuned your print bed to mere microns from your nozzle opening, it's unlikely the melted filament has room to escape. At best your print will be missing its first layers, and have a higher chance of not sticking once the filament does extrude. At worst, you'll cause a backup of melted filament in your hot end, possibly leading to a blockage.
3D Printing Troubleshooting: Nozzle Too Close to Print Bed


3D PRINTING TROUBLESHOOTING TIP: Z-AXIS OFFSET

Just raising the height of the nozzle slightly can often help. Most 3D printers in their system settings will allow you to set a Z-axis offset. To raise your nozzle away from the print bed you'll need to increase the offset into the positive value. This also works for the reverse, with a negative offset helping to address your prints not sticking to your bed.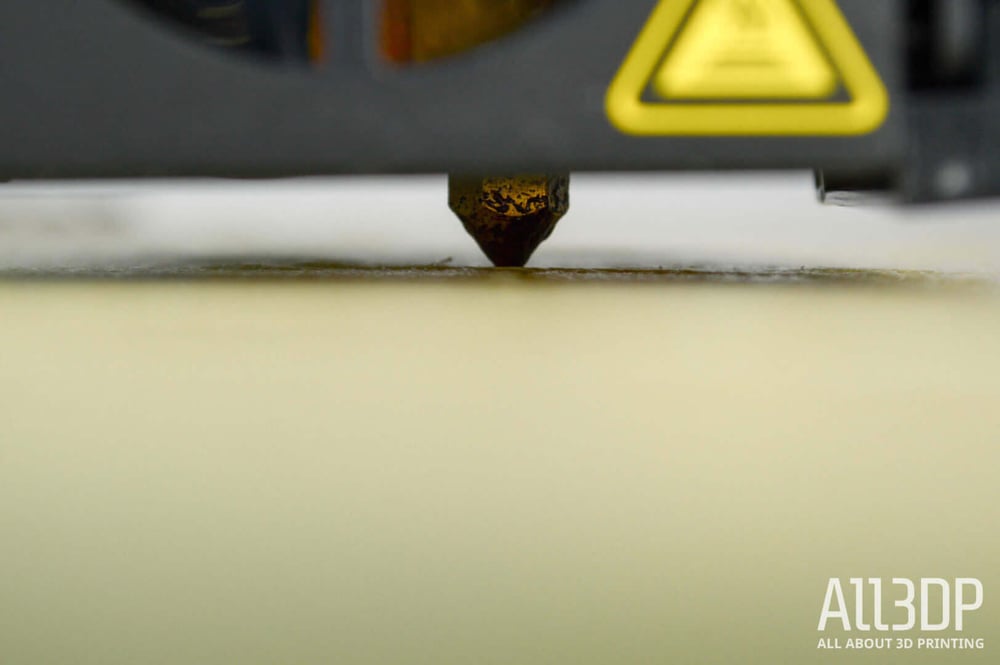 Be careful though, too high of an offset and it won't stick to the platform.

3D PRINTING TROUBLESHOOTING TIP: LOWER THE PRINT BED

Alternatively if your printer allows for it, you can achieve the same effect by lowering your print bed. This is the more troublesome fix though, as it requires you to re-calibrate and level the bed for even prints.
3D Printing Problem Checklist: Nozzle Too Close to Print Bed
Created By Alastair Jennings In ALL3DP