Connect with your social network account
Community rules
1. Be kind and courteous
We're all in this together to create a welcoming environment. Let's treat everyone with respect. Healthy debates are natural, but kindness is required.

2. No hate speech or bullying
Make sure everyone feels safe. Bullying of any kind isn't allowed, and degrading comments about things such as race, religion, culture, sexual orientation, gender or identity will not be tolerated.

3. Only 3D printers advertised.
Only 3D printers or directly related product may be advertised. If you post anything else it will be moderated and you will be banned.

4. Replying to posts
If you reply to a post, make sure your reply is connected with the main topic, do NOT take a topic off track.

5. All post are moderated
Every post on here is moderated - always. Don't bother joining unless you have works to share or problems to inquiry about 3D printers. That is all that will be allowed on this group.
PREFERENCES


In Cura, the Preferences menu holds just one item: Configure Cura. This is an easy way to get to all of Cura's settings. We'll go through each section one by one.
GENERAL


This menu holds options that control the basic behavior of Cura, such as the look and feel of the application and how you zoom around its representation of the build plate. It also controls what models do by default when opened for slicing. Most of these settings have to do with personal preference and what control scheme you are used to. The defaults have worked fine for me so far, so I haven't changed anything. However, I may have to try out Cura's dark interface theme, added in version 2.7. That option is available here in a drop-down menu titled Theme. For the dark theme, change it from Ultimaker to Ultimaker Dark and re-open Cura.
SETTINGS


Options in this menu are all about what settings are visible on the right side of the Cura main window. It doesn't necessarily activate the settings that you check, it just makes them visible in the main window so they can be used later.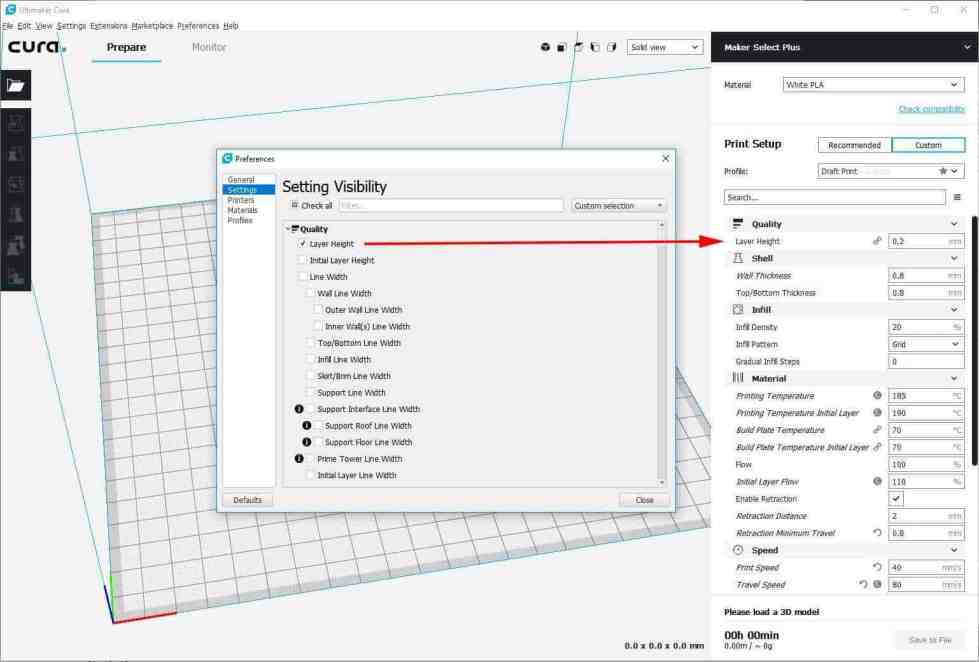 A quick way to access this menu is to click on the gear icon that appears if you mouse over a setting header on the right side of the main window. This will take you to the corresponding section in the Settings Visibility menu.

PRINTERS


This is the menu where printer profiles can be added, removed, or modified. To add a printer, just click the Add button. The next steps are the same for adding additional printers, or for adding your first printer during the initial setup of Cura.

When adding a printer, the first screen asks you to select a model.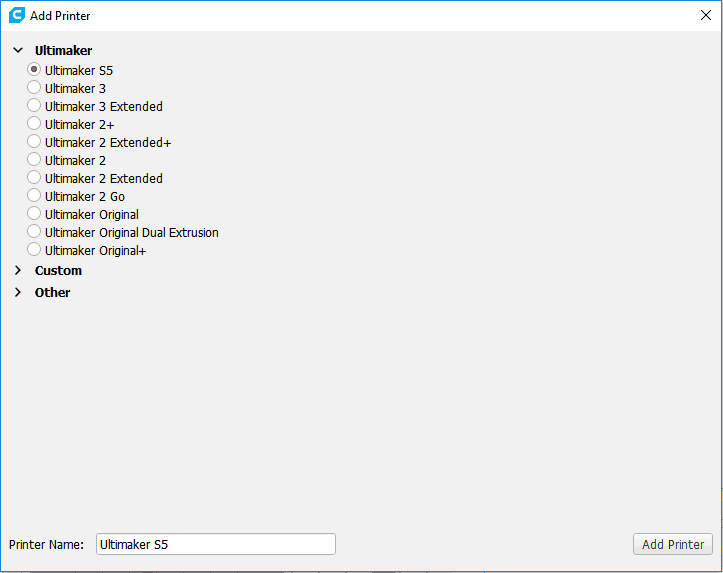 It shows Ultimaker models first, which isn't surprising since Ultimaker develops and releases all the official versions of Cura. That being said, the 'Other' section has an impressive selection of profiles for third-party printers. If your printer is listed, you can just select it and be done with the basic setup. All of the important details will be selected for you. However, if you're like me and your printer isn't listed, Cura will need a bit more information from you.

The printer I am using is a Monoprice Maker Select Plus. Cura does include a profile for its analog, the Wanhao Duplicator i3 Plus, but I've made some modifications to my printer since I bought it. I'm not sure the original settings will still give the best results, so I'll just add a custom printer and set it up manually.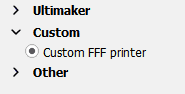 If you add a custom printer, give it a descriptive name at the bottom of the window and click 'Add Printer.' This will add it to your list of printers and immediately open the Machine Settings window.