Connect with your social network account
Community rules
1. Be kind and courteous
We're all in this together to create a welcoming environment. Let's treat everyone with respect. Healthy debates are natural, but kindness is required.

2. No hate speech or bullying
Make sure everyone feels safe. Bullying of any kind isn't allowed, and degrading comments about things such as race, religion, culture, sexual orientation, gender or identity will not be tolerated.

3. Only 3D printers advertised.
Only 3D printers or directly related product may be advertised. If you post anything else it will be moderated and you will be banned.

4. Replying to posts
If you reply to a post, make sure your reply is connected with the main topic, do NOT take a topic off track.

5. All post are moderated
Every post on here is moderated - always. Don't bother joining unless you have works to share or problems to inquiry about 3D printers. That is all that will be allowed on this group.
MATERIALS


Back in the main preferences window, The Materials menu allows you to select material profiles for many different types of 3D printing filaments. These profiles allow you to fine-tune print settings for different types of filament, allowing you to quickly change material types in the Cura main window without having to think about individual settings – once you have them set up of course. It includes built-in profiles for many popular filaments, but my manufacturer of choice, Hatchbox, was not listed, so I started from the included Generic PLA profile and created some Hatchbox profiles myself.

Profiles can also be imported if you get them from a manufacturer or 3D printing community group.
FILAMENT TOLERANCE


As I mentioned in the extruder settings section, the listed diameter of the filament isn't exact. I am using all 1.75mm filament, but my copper PLA has a manufacturing tolerance of +/- 0.03, and my white PLA has a tolerance of +/- 0.05. This means that the diameter of my white PLA could range from 1.70mm to 1.80mm. That doesn't seem like a lot, but Cura uses the value of the filament diameter to determine how fast the extruder needs to run to meet the material needs of the print. If the size is off by 0.05mm for an extended length, it could cause the printer to extrude too little, or too much filament. I haven't had this issue yet, but it's entirely possible you could.

So, if you notice, for example, that your printer tends to under-extrude when using a certain type of filament, check the manufacturing tolerance. If it has a tolerance of +/- 0.05, try changing the diameter in the material profile to 1.70mm (assuming a 1.75mm extruder) and see if it improves. It won't hurt anything to try.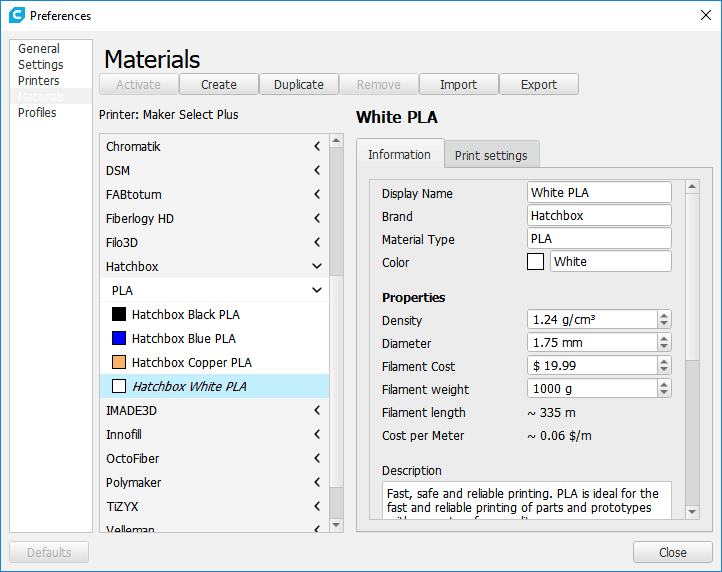 COST TRACKING


One of the additional things I recommend you set up is material cost tracking. It requires you to input some specific information about the filament as shown above: density, diameter, filament cost (entire spool), and filament weight (entire spool). All of this information should be available from the manufacturer. Once this information is entered, Cura will give an estimated cost per meter and will display the estimated total cost of each print near the lower right corner of the main window once it has finished slicing a model. It is worth the extra time to do this.
PROFILES


The last settings menu holds printing profiles. This allows you to define print settings or select from some basic ones Cura includes. The primary purpose of these profiles is to define the basic parameters the printer will use to create the object so you don't have to change them individually. A couple of the main differences you would often have between profiles are layer height and infill. We will cover these in detail next.